General Questions
What Is CrowdFunding?
Forbes.com defines crowdfunding as "the practice of funding a project or venture by receiving small monetary contributions from a large number of people. Typically via the Internet."
How is GoFundMission affliated with Community of Christ?
GoFundMission is a pilot project of the Community of Christ USA Team of Apostles and the six Mission Fields in the USA.
How Do I Know That A Project is Genuine?
Before any project is posted on GoFundMission it must receive support from a Mission Center President and then be reviewed by a Field Support Minister.
Why Are Campaigns All or Nothing?
All-or-Nothing funding means projects are funded only if they reach or surpass 100 percent of their funding goal within 30 days. No funds are collected from donors unless the goal is reached.
All-or-nothing funding has several advantages:
It carries less risk for everyone. If you need $5,000 but raise only $1,000, the project will not work.
It motivates. If people want to see a project come to life, they're going to spread the word.
It works. Projects either make their goal or find little support. There's little in-between.
How Do I Change My Display Name?
Login to My Account and under the My Profile tab edit the DISPLAY NAME field and click Save Changes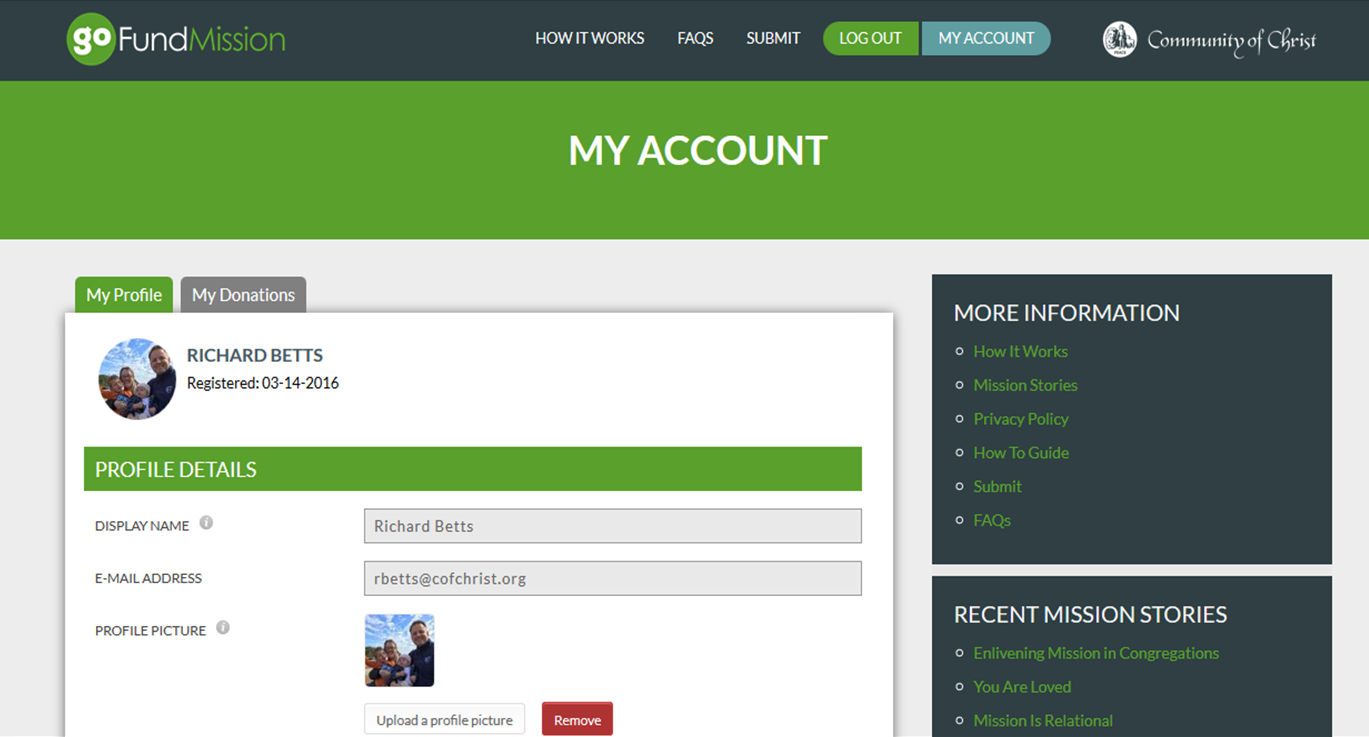 How Do I Update My Email?
Login to My Account and under the My Profile tab simply enter your new email and click Save Changes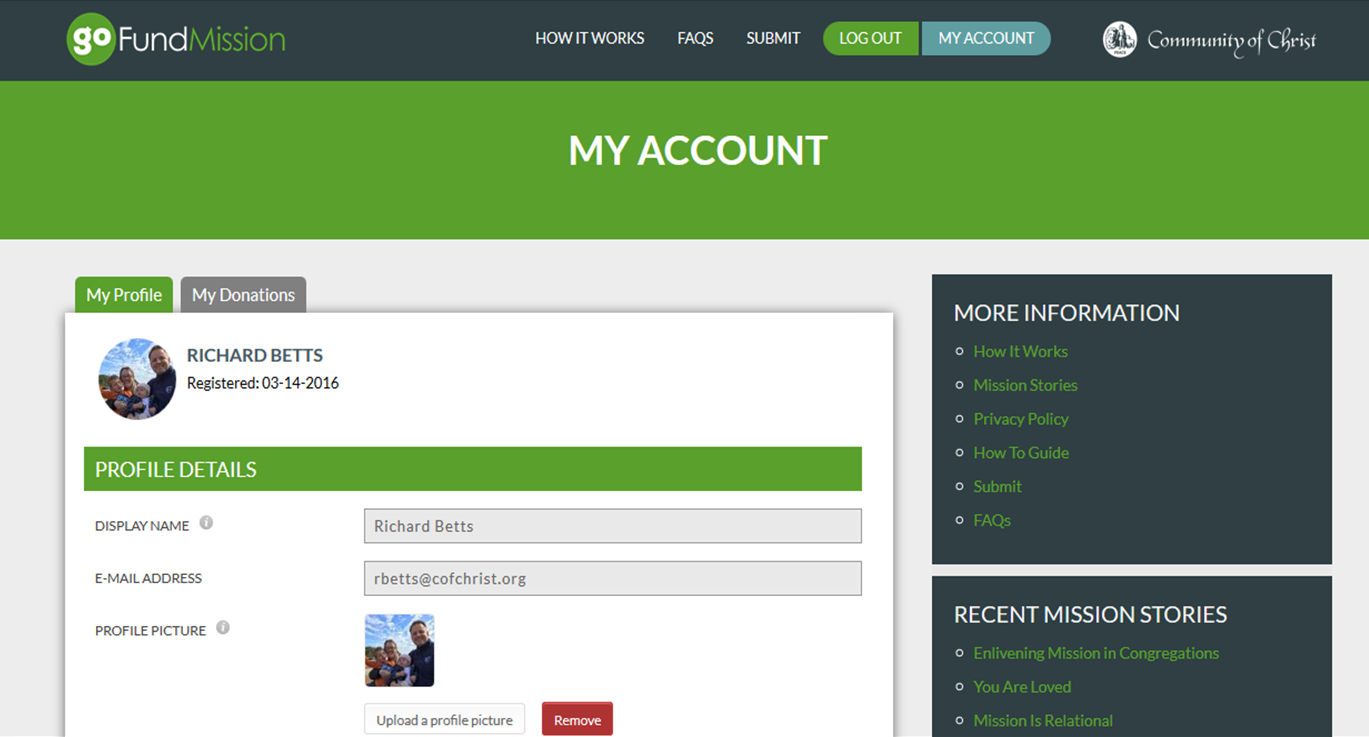 How Do I Change My Password?
Login to My Account and under the My Profile tab enter and confirm your new password and click Save Changes

I Have Forgotten My Password What Should I Do?
Simply click the "Reset My Password" from the bottom of the Login screen. You will then be emailed a link.

How Do I Delete My Account?
To delete your account you must contact GoFundMission directly. Your account will be promptly deleted without question.
Donation Questions
How Do I Make A Donation?
Making a donation on GoFundMission is very easy. Simply find a project you wish to support and click the Donate button. You will then be guided through the process. You will need to provide some basic personal information and your payment details.
(Coming Soon)  Watch this video to see an example of a donation being made.
Can I Make An Anonymous Donation?
Yes. Just check the "Make Donation Anonymous" box when making your donation.
Can I Donate Without Using A Card?
If you wish to donate by check, please send a check made payable to – Community of Christ – USA Fields
Address – GoFundMission, 1001 W. Walnut, Independence, MO 64050.
Please include your e-mail address and identify which project you are wishing to support.
Will My Donation Amount Be Visible?
No, just your name (or anonymous) and the date you made your donation.
Will My Donation Actually Go To The Project?
Yes. Your donation will go directly to the project you choose to support. GoFundMission doesn't charge or keep any fees.
Is My Personal Data Secure?
We use Secure Socket Layer (SSL) encryption technology to encrypt your sensitive personal information (such as e-mail or password) before it is sent over the Internet.
The security of your information is very important to us. We follow generally accepted standards to protect your information. However, no method is 100-percent secure. Therefore we cannot guarantee its absolute security. If you have any questions about our website security, please contact us.
How Will I Receive A Receipt?
It will be automatically emailed to you once your card has been charged.
Can My Donation Be Refunded?
If the project campaign has not ended, please contact us or call (816) 833-1000, extension 2248. We can delete your donation before your card is charged.
After the project campaign has ended you will need to contact the Project Coordinator.
Is My Donation Tax Deductible?
Every donation will receive an e-mail receipt that contains the information and language required by the IRS in the USA to be considered tax deductible. Unfortunately this receipt may not be recognized by all countries of residence as tax deductible.
Is My Donation Considered Tithing?
Yes. However, it will not be entered in to Shelby (the church's contributor database). Therefore it will not appear on any contributor statement from the church.
Giving through GoFundMission is an opportunity for when you have extra and see a project you want to be part of.
Giving on a regular basis is a disciple's top priority as we pursue Christ's mission. Consider setting up a recurring gift to the church with e-Tithing.
Project Submission Questions
How Do I Submit My Project?
Go to Submit A Project and follow the three step directions. There you will also find resources that have been developed to help you through the process..
If you have any questions, please email
Is My Project Suitable?
GoFundMission has the following guidelines for projects:
Focused on Mission
Supported by the local congregation and mission center leadership
Consistent with Community of Christ's message, beliefs and identity
In need of funding and not currently budgeted for elsewhere
Started within 3 months of a campaign ending
Submitted from the jurisdiction of the project
A Community of Christ entity, as funds will not be sent to an individual
In compliance with current World Church policies
Who Can Submit A Project?
Projects can be submitted by a Community of Christ Congregation, Mission Center, World Church or International Headquarters department.
Final donations funds will only be sent to a Community of Christ account and not to an individual.
What Is Needed Before I Submit A Project?
Submitting your project is actually step 3 of the process. The first 2 steps are – 1. Build Your Project, and 2. Sponsor Your Project.
Building your project is essential and it involves developing your idea, writing an attractive pitch, creating a communications plan. More information can be found at Submit A Project and the How To Submit A Project guide.
Every project will need to be sponsored by your Mission Center President before it can be submitted. The sponsorship form can be found here.
Is My Project Reviewed Before It Is Launched?
Yes. Your project must be reviewed and sponsored by your Mission Center President before it is submitted to GoFundMission.
Once it it submitted it is also reviewed by a Field Support Minister. This ensures that all required local and World Church policies are being adhered to.
How Long Does The Review Process Take?
This will depend on the complexity of your project. However, we will do our best to get a response to you as soon as possible.
How Long Do Campaigns Last?
Every campaign lasts for 30 days. No longer and no less.
Can A Project Receive More Than Its Goal?
What Are The Fees?
GoFundMission charges no fees, but the card processing company charges 2.9% and $0.30 per transaction.
Project Coordinator Questions