Project Overview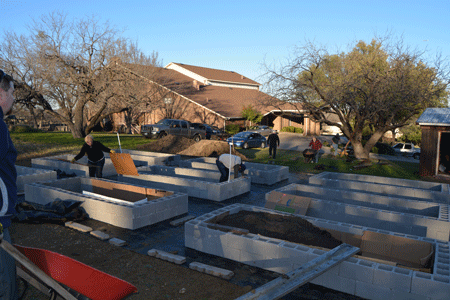 In the spring of 2016 a community garden was established at Carrier Parkway Congregation to provide fresh fruits and vegetables for the local community.
We are the 10th community garden in the city of Grand Prairie and there is currently a waiting list to get a plot.
We have the land and would love to be able to offer more plots to more local community members but need the money to level the land, run water to the plots, build the 4 x 12 plots, and fill the plots with proper soil.
The money we are asking for would double the size of our garden. We have the ability to grow to ten times our current size and only need the funding.
This community garden has helped our congregations reach out to our local community by seeing families come plant and harvest together. Another benefit is the city of Grand Prairie comes to teach anyone interested the best practices for the best varieties for our area.This community garden is also helping neighbors meet neighbors.
Please help us achieve our goal by donating today!
Thank you!
Project Backers
dallison@cofchrist.org

01/18/2017

Love my Texas Family! WTG!

$50.00

Diana & Doug McAlister

01/19/2017

This is an amazing cause.

$500.00

Great idea... We need more congregations to do this!!

$25.00

Joseph Postnikoff

01/20/2017